Dave Fleming On Assignment
ONE RECENT AFTERNOON, about three hours before first pitch, Mike Krukow, the San Francisco Giants broadcaster, sat in his condo beneath a ceramic moose, playing an up-tempo version of "Play With Fire," the Rolling Stones classic, on a 98-year-old mandolin. Krukow, a tall man with a full head of silver hair and a permanent air of mischief, was accompanied by his wife of nearly 40 years, Jennifer, and their 29-year-old daughter, Tessa, who strummed a guitar and sang harmonies that carried through the door onto 2nd Street.
Well, you've got your diamonds
And you've got your pretty clothes ...
"Music is my therapy," Krukow said. "Baseball is my life."
Around 4:30, a golf cart driven by a Giants employee pulled up on the sidewalk. Krukow, who is 62, grabbed a silver REI walking stick and began the short commute to his office -- AT&T Park, a waterfront ballpark that evokes the Disneyland slogan, "The Happiest Place on Earth," except that here Willie Mays is Mickey Mouse. AT&T has a 10-ton mitt and four slides encased in a Coke bottle behind the left-field bleachers and, on the field, a team that's won two of the past four World Series and is headed back to the playoffs Wednesday as a wild-card team. Krukow broadcasts the games on TV with his best friend and former teammate, Duane Kuiper; together they're known as Kruk and Kuip. In recent years, they've become as beloved in San Francisco as the crooked street and are recognized, by many, as the best local broadcasting team in baseball.
Their secret is the same effortless chemistry that characterizes their long friendship: Night after night, they deliver rare insights devoid of pretentiousness, mixed with the kind of whimsical Bay Area humor made famous by Robin Williams.
The two have been inseparable since they met as Giants teammates in 1983. Krukow, a 6-foot-5 right-hander who won 20 games in 1986, had been acquired after a short stint with the Phillies and a long one with the Cubs. Kuiper, who started at second base for the Indians for seven years, was reaching the end of his career. Between Krukow's starts, the two would sit at the end of the bench and perform profanity-laced broadcasts to entertain their teammates. After they took their act into the booth in the early '90s -- a gig that brings them together some 200 days a year -- they continued to hang out during the offseason and to vacation together, with their families.
One typical December morning, Kruk and Kuip spoke by phone around 8. "I talked to him again at noon, and then talked to him again at 5," Kuiper said. "At that point, my wife looked at me and she said, 'Are you guys sleeping together?'"
A good day for Kruk and Kuip comes with a Giants win and at least a half-dozen "horselaughs," as Krukow calls them. These are a reaction to many things: a new catchphrase, a hilarious fan shot on TV, memories.
One year, Kuiper and his wife, Michelle, took up in-line skating. The Giants had an upcoming road trip. "So I tell Mike, "Look, I'm gonna take my Rollerblades to Chicago and we'll go,'" Kuiper said. Krukow, who collects life experiences the way some people collect art, had never in-line skated.
"We're going down Lake Shore Drive," Krukow said. "He's doing figure eights and pirouetting, going backwards. And I don't even know how to stop!" Krukow then made the sound of a man careening out of control: "Ahhhhhhhh....Ahhhhhhhh....."
"He was going round and round, like a helicopter!" Kuiper said. "You know how you see a center fielder going to make a diving catch -- he was that high off the ground. He went down right on his side." Krukow had two cracked ribs.
"The next year, we're going by the same spot, and he had taped it off, like it was homicide!" Krukow said. "A--hole. I was black and blue from my belly button all the way down to my knees, and he tapes off the scene! What a d---. Now every time we go by there it's like, 'Hey, that's the spot where Kruk fell.'"
Dropping into Kruk and Kuip's world -- filled with baseball and music and horselaughs -- you feel as if you want to stay awhile, maybe even move in. But the longer you stay, you see that there are deeper forces at work. And you realize that, as the Giants return to the postseason, their most gripping story isn't on the field. It's up in the broadcast booth, where, with humor and grace, Krukow, one of the most popular and enduring figures in franchise history, is fighting an epic battle that threatens the two things that -- besides his family -- give him more pleasure than anything else in life: playing music and broadcasting San Francisco Giants baseball.
All with a little help from his friend.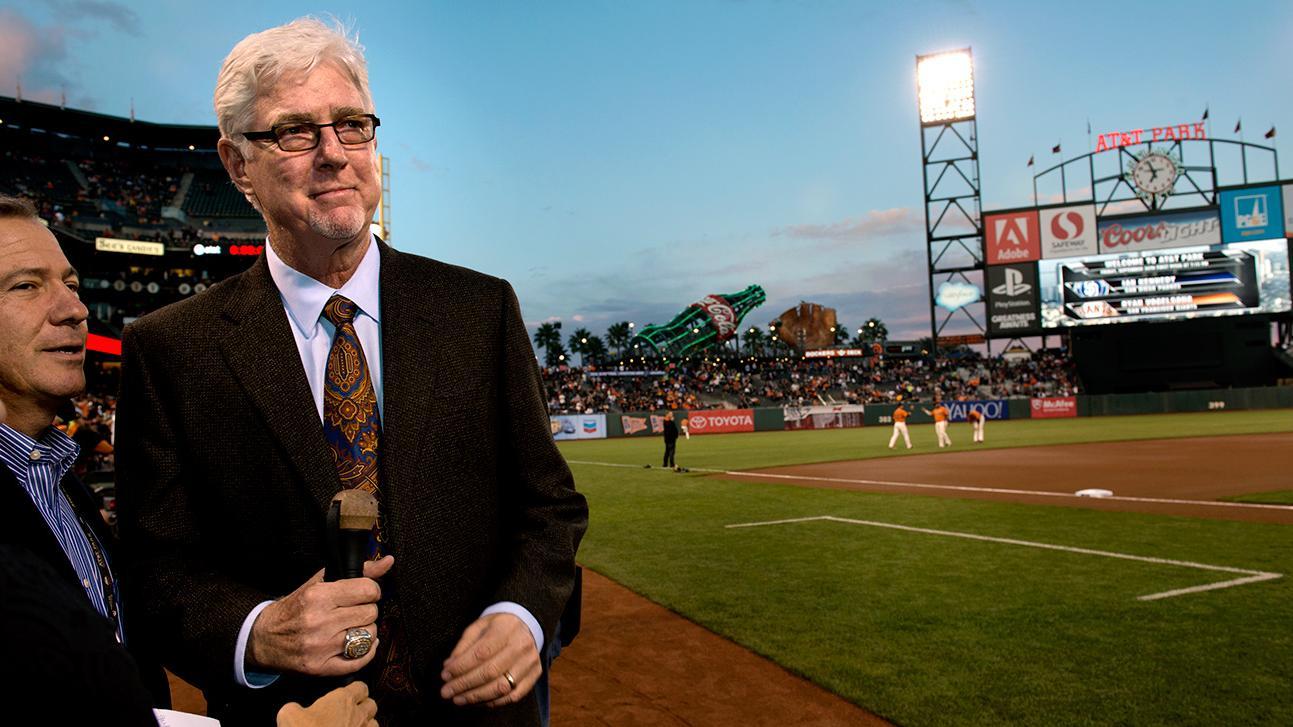 Muscle Disorder Challenges Mike Krukow
Mike Krukow, the color commentator for the San Francisco Giants, is battling a muscle disorder that weakens his arms and legs.
IT STARTED WITH his golf swing, almost 10 years ago, when Krukow was in his early 50s.
For years, Krukow lived near the San Luis Obispo Country Club. In the offseason, with a college buddy, Jon Silverman, he played a form of warp-speed golf they called Michigan Warball. Krukow and Silverman played three balls at a time, betting on every shot, and raced around the course on Krukow's modified golf cart, which "hauled ass" at nearly 30 mph. Krukow would be out the door at 10 and home by lunch. But he began to notice that he had lost about a hundred yards off his drive.
In the manner of most athletes, he blew it off -- not for months but years. As the weakness progressed, people close to him, including Jennifer and the kids, occasionally would ask him what was wrong. "Old ballplayer injuries," he'd shrug. Krukow secretly feared he had amyotrophic lateral sclerosis, Lou Gehrig's disease, "but I didn't want to know. I didn't have the balls." Finally, in 2011, after he could no longer snowboard, he went to the Giants' neurologist, Donald Kitt, who sent him to a neuromuscular specialist, Jonathan Katz (Krukow has two neurologists, Kitt and Katz).
Krukow sat in the waiting room, terrified, surrounded by terminal patients with various stages of ALS. "I'm sitting there thinking to myself: Is this gonna be me?" he said. "I'm sitting there for a while. Your mind goes crazy."
Katz looked at him and said: "I can tell you what you have. You've got a muscle disease. It's not life-threatening."
"I thought I had won the lottery," Krukow said.
"I TALKED TO HIM AGAIN AT NOON, AND THEN TALKED TO HIM AGAIN AT 5. AT THAT POINT, MY WIFE LOOKED AT ME AND SHE SAID, 'ARE YOU GUYS SLEEPING TOGETHER?'"
- DUANE KUIPER
The diagnosis was something called inclusion-body myositis, or IBM, a blandly corporate-sounding disease that, for reasons that are unclear, attacks specific muscle groups, causing them to atrophy. Kitt said he has seen perhaps a half-dozen cases in 26 years of practice. Of the .000008 percent of Americans who get it, most are men older than 50. IBM affects the quadriceps -- the muscles in front of the thighs -- and the flexor muscles around the hands. There's no cure. The disease isn't life-threatening, although it sometimes impedes swallowing in the later stages.
"The funny thing is, it's profoundly sad what's happening with him physically, except when you're around him it's as if it's not happening at all," said Jon Miller, the Giants' Hall of Fame radio voice. "It's only sad when you talk about it with other people. And then you start realizing, 'Geez, it's so sad.' But when you're with him, there's none of that. He's the same as he always was."
Following Krukow around the country with the Giants, from San Francisco to Chicago to Washington to Los Angeles, there's an odd disconnect that occurs. He is battling an insidious disease that, if not fatal, almost certainly will put him in a wheelchair. Yet seemingly he's never been happier. "Look, I'm pissed I can't do a lot of things," he said one afternoon at his condo. "But I gotta really work at being pissed off. Seriously."
Krukow is so relentlessly upbeat it obscures a hard reality: His body is failing him. With some regularity, maybe a couple of times a month, he'll fall "straight down, like a turd from a giraffe." These flash falls are tearing Krukow up. Earlier this year, he stepped off the team bus in the carport at the Ritz Carlton in Denver and collapsed onto his right shoulder, damaging his rotator cuff. Now he can barely lift his arm. During the All-Star break, while moving his family's offseason home from San Luis Obispo, California, to Reno, Nevada, to be closer to his grandchildren, Krukow was standing in the street when he collapsed and found himself on the pavement, alone. "It was like 98 degrees in Reno that day; well, the street was 120," he said. "I'm burning my hands and my knees. I've got a pair of shorts on. It was brutal. Nobody saw that one." It took him five minutes to get up. Later that day, hanging out by the pool, he went down again.
Krukow is acutely aware of where this is headed: "You go from a cane to a walker to whatever you need to do. I'm on the cane process right now."
Kuiper is at his most self-deprecating when he is asked to explain how he is helping his friend. "I don't really do anything," he said. But that isn't remotely true. As Krukow's condition has worsened, Kuiper has quietly taken it upon himself to make sure his partner makes it through the day without taking the kind of catastrophic fall that drives him out of the game. The obstacles that could trip up Krukow are endless -- TV cables, garden hoses, cracks in the sidewalk. Kuiper walks ahead of him, calling out "land mine!" whenever he spots one. "Kuip wants to be the person who makes sure that Mike doesn't just get sick of it and say, 'This is too much,'" said Dave Flemming, Miller's radio partner.
Last offseason, Kuiper arranged for the Giants to alter the broadcast booth at AT&T, installing a railing and replacing the step-up riser with a ramp. Krukow is terrified of being knocked down in crowds, so Kuiper persuaded the team to send the golf cart to shuttle Krukow between the ballpark and his condo before and after games. Krukow's biggest challenge is getting off of the Giants' plane, which unloads on the tarmac. In the routine that they've developed, Kuiper takes Krukow's bags -- including his mandolin -- then walks down the stairs "like he's carrying two pails of milk," said Krukow, who follows.
Because his thigh muscles are so weak, Krukow can no longer descend stairs facing forward. Instead, he turns around and eases himself down like a man slipping into a cold pool.
"Kuip's my Sherpa," Krukow said.
In August, a few days before the Giants traveled to Wrigley Field, Krukow remarked that he might need a cart to navigate the 100-year-old ballpark.
"Already taken care of," said Kuiper, who had made the arrangements three weeks earlier without informing his partner.
The cart was waiting when the team bus pulled up on North Sheffield Avenue. Except for ticket takers and concessionaires, the ballpark was mostly empty and smelled like mildew, fried onions and rain. The cart ferried the broadcasters along the lower concourse and up a ramp, depositing them on the second deck behind home plate. It was another 20 steps up to the press box. "I'll see you up there," Kuiper said. Krukow took the service elevator. There were three more steps down into the visitors' TV booth. Krukow, using his arm strength, gripped the railings and lowered himself down, like a gymnast struggling with a pommel horse.
The booth was cramped, sweltering and crawling with spiders; one fell on the back of Kuiper's neck in midcall. The first night, the skies opened up with the Giants losing 2-0 in the fifth. The Cubs, forever lame, had sent home about half the grounds crew to save money. The remaining crew left part of the infield exposed while rolling out the tarp, then tried to dry it out with leaf blowers. After a four-hour, 34-minute delay, the field was ruled unplayable and the victory awarded to the Cubs. The decision was reversed the next afternoon -- the first time a protest had been upheld in 28 years. But with the game scheduled to resume the next day, it poured again.
Krukow was clearly hurting. On level ground, using his walking stick, he often looks like a prosperous man out for an evening stroll. In fact, he has to "calculate every step. It's like a gas tank: You get depleted. Then you're vulnerable." The second delay lasted about two hours. After hauling himself in and out of the booth for three days, Krukow stood at the top step, peering down anxiously like a man on the edge of a cliff. He never complained, but everyone understood: "I walked out of there pissed at Wrigley," Flemming said.
Kuiper brought Krukow a present to cheer him up: a Zippo lighter embedded with the Chicago Bears insignia.
"I haven't had a Zippo lighter in my hand in 20 years," said Krukow, flipping it open as a hard rain fell over the field.
"I don't buy my wife gifts, I buy you gifts," Kuiper said. "If I tell my wife, she's gonna go, 'Really? Really? You got Kruk a gift?'"
"She thinks we spoon on the road, man," said Krukow, laughing. "She thinks that's true."
Enlarge
Mike Krukow was a pitcher for the San Francisco Giants before he joined Duane Kuiper, former Cleveland Indians second baseman, in the broadcast booth. Getty Images, AP Photo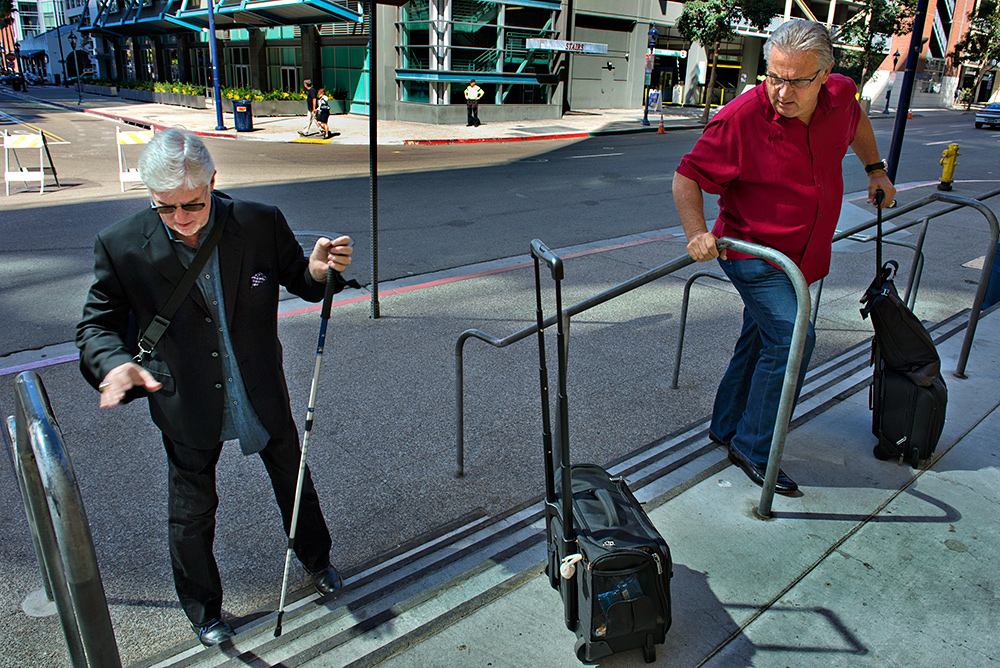 Mike Krukow calls best friend Duane Kuiper his "Sherpa." Deanne Fitzmaurice for ESPN
Gallery: A Giant Friendship
A series of photographs of Mike Krukow and Duane Kuiper. Deanne Fitzmaurice for ESPN
David Fleming is a managing director in the Manchester office and is part of the Global Restructuring Advisory practice. David has more than 16 years' experience in the financial sector, having spent the last 5 years focusing on both financial and operational turnaround assignments, since joining the firm in 2009.

David has worked on numerous assignments for banks, asset based lenders and key financial stakeholders implementing turnaround strategies. He also specialises in undertaking independent business reviews and performing structured work-outs. In 2010, he was seconded to the restructuring department of global clearing bank for 15 months, where he was part of the trading team, dealing with distressed debt of £1m to £20m.

He has broad sector experience and successful assignments that he has worked on include the turnaround of a leading house builder and contractor in the North West of England, the restructure of a property group which had c.£150m of bank debt provided by multiple clearing banks, as well as an advisory assignment for an AIM listed business, with c.£70m of syndicated debt.
Prior to joining Duff & Phelps, David held the position of Finance Director at a venture capital backed, Fast Track 100 Company.

David is a qualified accountant and holds the CPI qualification.
Fleming/our-team/david-fleming/-/media/assets/images/headshots/managing-directors/david-fleming.ashxpeople{C8894F56-FF6C-4DEA-AB91-58D66A7F0624}{7E8E553C-0F29-4200-9149-F7FF7ABE4B3C}